The BoLounge Aluminum Chaise
The BoLounge® shown here in aluminum / sling, is Bottega's patented Chaise Lounge. The aluminum version is lighter in weight and more economical than the Ipe' wood version but incorporates the same orthopedic design principles.
Says Orthopedic Surgeon Dr. Donald Ames: "Correct orthopedic principles incorporated in the BoLounge® Chaise allow for the lumbar spine to relax, avoiding the uncomfortable hyperextension experienced with other chaise lounge chairs. The curvature of the seatback also provides lumbar support while sitting or lying supine (face up)."
"With the BoLounge® face-cut-out feature, the upper cervical spine stays in alignment, avoiding the usual uncomfortable hyperextension or lateral rotational stress in the upper back and neck experienced with regular lounge chairs. The BoLounge® chair's orthopedic features are properly designed and the chair is well built."
Dr. Ames concluded, "When also taking into account the headrest pillow and integral magazine rack, I can't think of a more relaxing and comfortable way to lounge outdoors, even while reading a book, magazine, or tablet face-up or face-down." We appreciate all of Dr. Ames' strategic insights during the design and refinement of the BoLounge® Chaise . . . and we're confident you will too!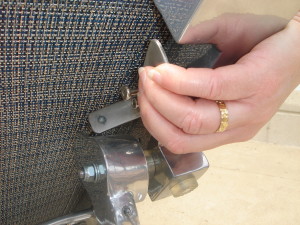 Smooth, easy, and always-aligned adjustment of setback. Extra effort to adjust the seatback, along with the risk of mis-aligned positions, are common with conventional chaise lounges. Not so with the uniquely designed BoLounge® Chaise. It features a unique, spring-loaded mechanism with a lever and parallel-teeth that provides easy, sure, snug, single-handed adjustment of the seatback. Users really appreciate this effortless operation and we're confident you will too.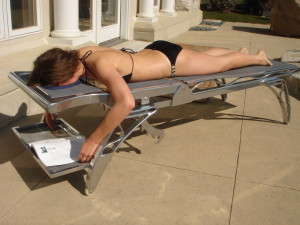 Face-down relaxation and ease of reading with a unique magazine rack are popular features that users rave about. For good reason… it is the ultimate lounge for  comfort. Notice the slight "bow"  in the seat under the hip area…. it provides unparalleled lumbar support while lying face down. It straightens out the lower back relieving stress. (Our designers favorite feature!)
The Aluminum BoLounge® also has hidden wheels for ease in moving the chair around the pool deck.  The Aluminum BoLounges  are stackable for convenient storage while not in use.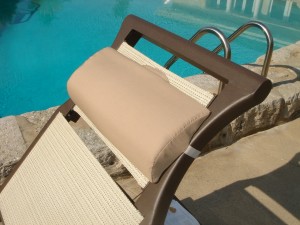 A custom head cushion attaches with an elastic strap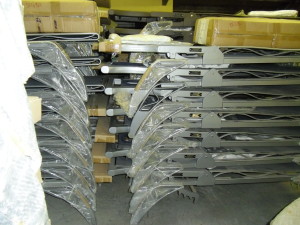 Stacking the Aluminum BoLounge®